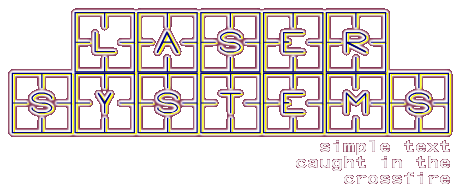 Font Released: March 19, 1998
I ride the bus a lot. Probably because I don't have a car. One day the bus went through this little industrial park, and there was this sign for some company. It was called Laser something-or-other, and the logo was some simple lettering in little crosshairs, pretty much like this font. This font has no international characters, but it does include numbers and punctuation.
Currently I don't have a full font family for this font, but I plan to. In the meantime, enjoy the preview for free.
Thanks to JFelix for converting this font to Mac.
In order to download the files, do the following steps:
Click on the link to download the font.
Tripod will forward you to another page with a link to the file. Right-click on the link.
Choose "Save Link As..." or the equivalent from the pop-up menu.
This will ensure that you actually save the compressed file itself and not the Tripod link page. If you choose the right-click from the link on this page, the filename is aj-cat.zip, but the file itself is HTML! If you click on the link from the Tripod link page, it simply refreshes the page. Unfortunately, there is nothing I can do to fix this as it is a Tripod problem.

Do you like this font? Would you like a whole family of fonts like this one? Support fontography!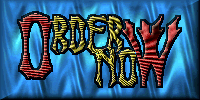 Return to one of the following:

Lisa D. Jenkins / agentj@bigfoot.com
This page hosted by Tripod - your FREE homestead on the web!